Reopening and Recovery Information
ICSC has aggregated information from a variety of sources to create reopening best practices for your consideration. We've covered topics including planning and communication, common area adjustments and traffic flow. We recommend you refer to CDC guidelines, as well as local and national authorities, for further guidance. View ICSC's COVID-19 Reopening Best Practices here.
Additional resources:
- Restaurant Revitalization Fund: The Small Business Administration will begin accepting applications for the Restaurant Revitalization Fund on Monday, May 3, 2021.
- Business Growth: A Guide for Business Owners from Intuit Quickbooks
- COVID-19 Operating Guidance: A Guide for the Restaurant Industry from the National Restaurant Association
- Recovery Readiness: A How-To Guide for Reopening Your Workplace, a set of recommendations to get businesses reopened by Cushman & Wakefield
Information from U.S. Government Sources
- The U.S. Census Bureau has released a Small Business Pulse Survey that's being updated weekly. This survey measures the impact of COVID-19 on small businesses in the U.S.
- Find more information from the U.S. Census Bureau on COVID-19 here.
- View the U.S. Chamber of Commerce's Small Business Guide, complete with coronavirus coverage, updated daily with resources for businesses.
- The U.S. Chamber of Commerce releases State-by-State business reopening guidance here.
- On June 8, 2020, the Federal Reserve Board announced an expansion of its Main Street Lending Program (MSLP) to allow more small and medium‑sized businesses to receive support. The board lowered the minimum loan amount (a request of ICSC), raised the maximum loan limit, adjusted the principal repayment schedule to begin after two years, and extended the term to five years. Learn more here.
- Federal Reserve Board on Thursday, April 30, 2020, announced it is expanding the scope and eligibility for the Main Street Lending Program. This program was developed to help credit flow to small and medium-sized businesses that were in sound financial condition before the pandemic. Read the Main Street Lending Program FAQ here.
Overview: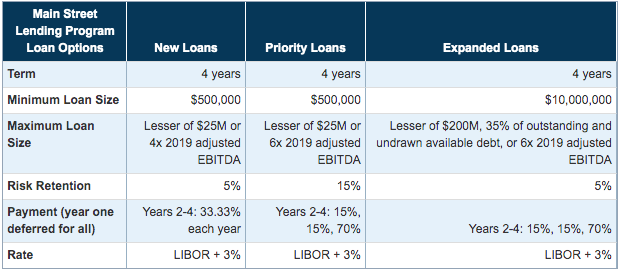 Canadian Small Business Information
- The Canadian Small Business Federation has produces a small business resource center outlining government relief programs, including information and webinars. View here.
Additional Information
- The Coronavirus Aid, Relief, and Economic Security (CARES) Act was signed into law on March 27, 2020, and provides loans and grants for small businesses. For more information, visit our FAQ page on the CARES Act, and the Paycheck Protection Program's (PPP's) small business program here.
- The Consumer Financial Protection Bureau has released information on fair and equitable access to credit for minority and women-owned businesses. Read more here.
Small Business Guidebook
Small businesses account for over 95 percent of all retail spaces, and 91 percent of Americans patronize a small business at least once a week. ICSC champions small and emerging businesses and is committed to fostering their sustainability and growth with practical resources and educational opportunities. This guidebook is designed to help small business owners understand and apply real estate concepts that advance their goals.
View here