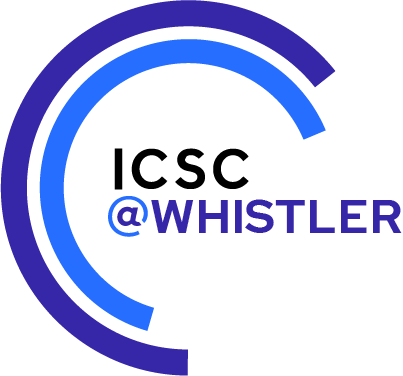 Schedule At-a-Glance
Sunday, March 27 • Fairmont Chateau Whistler
1:00 – 5:30 pm • Badge Pickup
3:00 – 4:00 pm • Volunteer Leadership Reception (By Invitation Only)
4:00 – 5:30 pm • Opening Reception
Monday, March 28 • Fairmont Chateau Whistler
7:30 am – 5:00 pm • Badge Pickup
9:30 am – 5:00 pm • Dealmaking & Networking Lounge
4:30 – 5:30 pm • Networking Reception
Monday, March 28 • Four Seasons Resort Whistler
8:30 – 8:45 am • Welcome Remarks
9:00 – 10:15 am • Keynote Presentation
10:30 – 11:45 am • Panel Discussion
12:45 – 1:30 pm • Keynote Presentation
1:30 – 2:30 pm • Retailer Special Industry Groups
Tuesday, March 29 • Fairmont Chateau Whistler
8:00 am – 2:00 pm • Badge Pickup
9:00 am – 2:00 pm • Dealmaking & Networking Lounge
2:00 pm • Conference Adjourns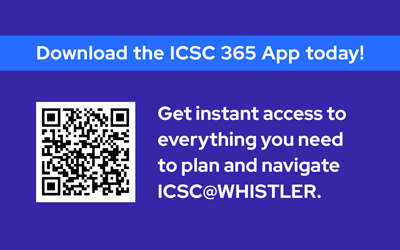 Download for iOS and Android
Registration Fees*
Standard Rate (Registration closed March 23, 2022)
Member • $795 CAD
Non-member • $1,600 CAD
Retailer Member • $0
Student Member • $50 CAD
*All cancellations are subject to a $100 CAD cancellation fee for members and non-members; $25 CAD for student members. Refunds will not be given for cancellations received after March 23, 2022. All requests for refunds must be received by ICSC in writing.
Get-Togethers
Lift Tickets:
Whistler Blackcomb
To take advantage of lift ticket and ski rental discounts, call 1-877-944-4481 and quote code ICSC22
Rentals:
Rent skis
ICSC@WHISTLER Shuttle Schedule
Attendees will have access to a shuttle service between hotels during the event.

Sunday, March 27th
3:45 pm – 6:00 pm
(Between Fairmont Chateau Whistler and Squamish Lil'wat Cultural Centre during Opening Reception)
Monday, March 28th
7:30 am – 5:30 pm (15-Minute Frequency)
Four Seasons Resort Whistler, Fairmont Chateau Whistler, Westin Resort and Spa Whistler, Hilton Whistler Resort
Tuesday, March 29th
7:30 am – 2:30 pm (15-Minute Frequency)
Four Seasons Resort Whistler, Fairmont Chateau Whistler, Westin Resort and Spa Whistler, Hilton Whistler Resort
Airport Shuttle Discount
ICSC@WHISTLER attendees will also receive discounted rates on shuttles from Vancouver Int'l Airport (YVR) to the event.
Visit RideBooker to book.
Attendees may access WiFi at the Fairmont Chateau Whistler using:
Network ID: ICSC
Password: Whistler
Hotel Reservations
Hotel reservation discount has ended.
Notice to all ICSC Members: Please be advised that ICSC will only contact you through OnPeak, ICSC's official hotel provider. Any other email or phone solicitations offering hotel bookings are unauthorized and should be disregarded as spam notices.
Exhibitor & Sponsorship Information
• Direct all exhibitor inquiries to Carlos Baudett.
• View sponsorship opportunities and application.
All live Canadian ICSC events will require proof of full vaccination. All attendees will be required to show proof of vaccination on-site for ICSC@WHISTLER. Canadian attendees can show their vaccine passports or QR Code. This event will operate at full capacity.
As of March 11, masks will no longer be required throughout the event. We will be following all safety guidelines provided by the province of British Columbia at the time of the event.
ICSC is committed to bringing our event attendees together safely and with the proper health precautions in place. We continue to follow guidelines and recommendations by the Centers for Disease Control (CDC) and state and local governments on public events and gatherings.

Given the extremely contagious nature of COVID and the fact that it is primarily transmitted by person-to-person contact, ICSC has put several preventative measures in place to help reduce its spread. However, ICSC cannot guarantee that event attendees, exhibitors, vendors, or other participants will not become infected with COVID, and by voluntarily attending an ICSC event, you accept and assume the risk of possible exposure or contraction of the same.

Read ICSC's Event Terms and Conditions for more information here.
The ICSC@ event series is our signature regional two- to three-day gatherings of innovators and dealmakers, who are dedicated to strengthening communities and economies by bringing the spaces where consumers shop, dine, work, play and gather to life.