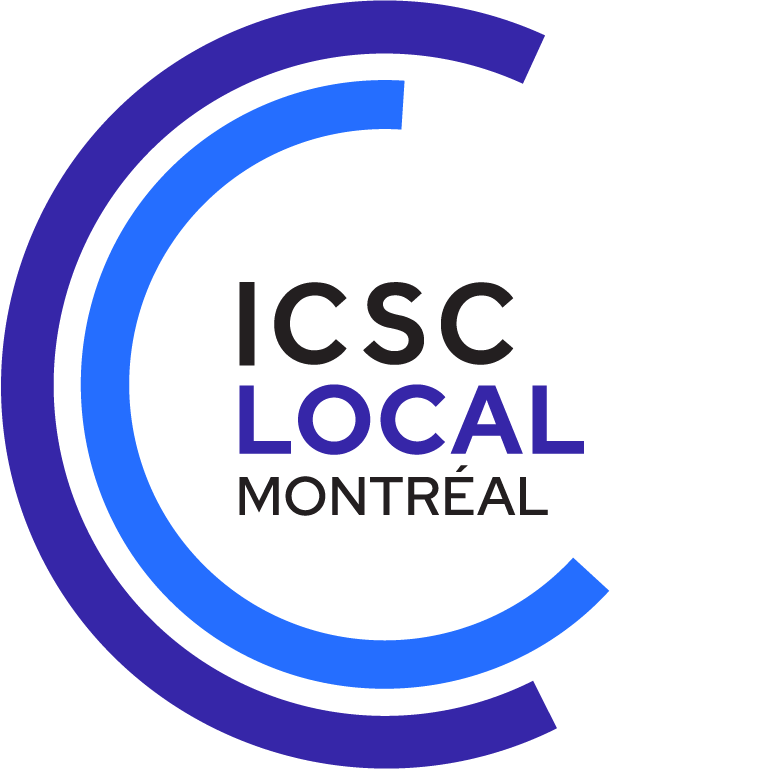 Le mardi 20 juin 2023 • de 14h30 à 19h
Venez rencontrer vos collègues de l'industrie en vous inscrivant au prochain ICSC LOCAL MONTRÉAL. Dans une ambiance conviviale, venez vous informer des dernières tendances du marché, tout en réseautant avec des professionnels de l'immobilier commercial et du commerce de détail. L'événement se déroulera à l'hôtel W situé au centre-ville de Montréal. Des rafraîchissements et des hors-d'œuvre seront servis aux participant(e)s.
PROGRAMME
14h30 à 15h : Récupérations des badges et inscriptions sur place
15h à 16h : Mot de bienvenue et conférence 1 : (R)Évolution des Comportements Clients
16h15 à 17h : Conférence 2 : Détaillants Québécois Innovateurs
17h à 19h : Cocktail réseautage
Frais d'inscription
Inscriptions à l'avance (se terminant le 19 juin 2023 à 23h59)
Membre • 100$
Non-membre • 120$
Membre étudiant • 25$
Inscriptions sur place (commençant le 20 juin 2023 à minuit)
Membre • 150$
Non-membre • 170$
Membre étudiant • 25$
*Aucun remboursement en cas d'annulation
Réservations d'hôtel
Nous vous proposons des tarifs réduits à l'hôtel W pour votre séjour à Montréal. Réservez votre chambre dès maintenant pour profiter de la meilleure sélection et du meilleur prix. Les réservations à l'hôtel W par le biais du lien en ligne prendront fin le 26 mai 2023. Pour les demandes de réservation après le 26 mai 2023, veuillez contacter Shireen Teo (steo@icsc.com) pour profiter du tarif préférentiel de 385 $/nuit.
Avis à tous nos membres: veuillez noter que le ICSC ne vous contactera pas pour faire vos réservations d'hôtel. Toutes sollicitations, par courriel ou par téléphone, vous offrant ce service ne sont pas autorisées par le ICSC et doivent être considérées comme indésirables.
Le ICSC s'engage à offrir un environnement sécuritaire lors de tous ses événements en prenant les précautions sanitaires qui s'imposent mais elle ne peut garantir que les participants, les exposants, les vendeurs ou les autres intervenants ne seront pas infectés par la COVID19.
En participant volontairement à une manifestation du ICSC, vous acceptez et assumez le risque d'une éventuelle exposition ou contraction de la maladie. Pour plus d'informations, s'il vous plaît vous référez aux conditions générales du ICSC (ICSC's Event Terms and Conditions).
*****************************
Tuesday, June 20, 2023 • 2:30 – 7:00 pm ET
Join colleagues and industry leaders at this after-work event that will be full of opportunities to make industry connections and share the latest trends for marketplaces and spaces where people shop, dine, work, play, and gather. Refreshments and hors d'oeuvres to be served.
SCHEDULE
2:30 – 3:00pm • Badge Pickup & On-Site Registration
3:00 – 4:00pm • Welcome Remarks & Session 1: (R)Evolution of Customer Behavior
4:15 – 5:00pm • Session #2
5:00 – 7:00pm • Cocktail Reception
Register at the Standard Rate (ends June 19, 2023, at 11:59 pm)
Member • $100 CAD
Non-Member • $120 CAD
Student Member • $25 CAD
On-Site Registration Rate (starts June 20, 2023, at 12:00 am)
Member • $150 CAD
Non-Member • $170 CAD
Student Member • $25 CAD
*No refunds for cancellations.
Hotel Reservations
We are offering discounted rates at the W Montréal. Make your hotel reservation now for the best selection and price. Hotel reservations through the online booking link will close on May 26, 2023. For booking requests after May 26, 2023, please contact Shireen Teo (steo@icsc.com) to arrange for a hotel room at the rate of $385/night.
Notice to all ICSC Members: Please be advised that ICSC will not contact you to make hotel reservations. Any other email or phone solicitations offering hotel bookings are unauthorized and should be disregarded as spam notices.
ICSC is committed to bringing our event attendees together safely and with the proper health precautions in place but cannot guarantee that event attendees, exhibitors, vendors or other participants will not become infected with COVID, and by voluntarily attending an ICSC event, you accept and assume the risk of possible exposure or contraction of the same. Read ICSC's Event Terms and Conditions and our Event FAQs for more information.
The ICSC Local event series are intimate gatherings designed to facilitate greater network building and information sharing among local marketplaces industry professionals.