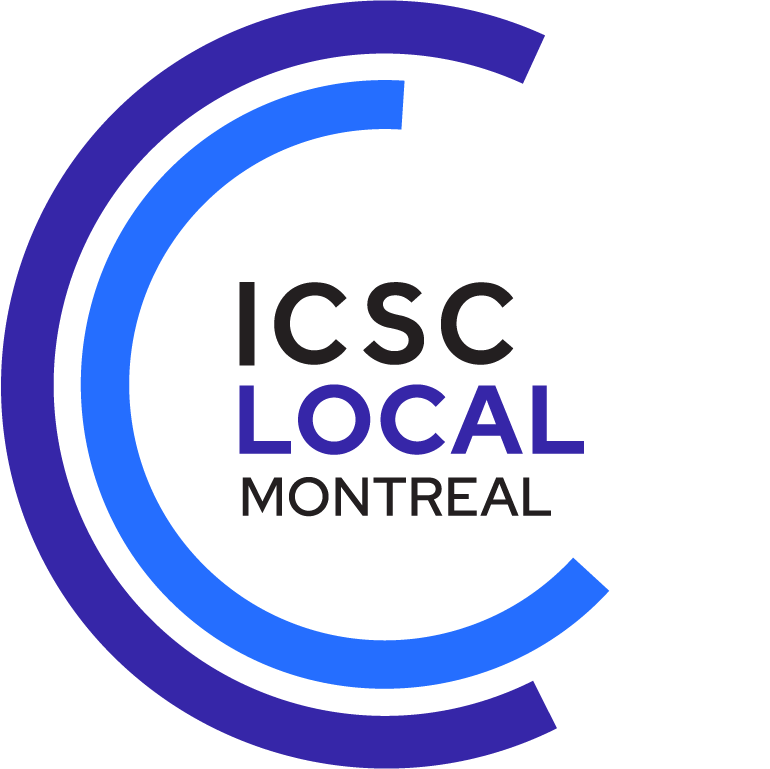 Jeudi 27 octobre • 16h à 19h
Hôtel Monville Lobby Bar, 1041, rue de Bleury, Montréal, QC H2Z 1M7
Reconnectez avec vos collègues de l'industrie en vous inscrivant à ce premier événement réseautage postpandémie de la division ICSC LOCAL MONTRÉAL. Dans une ambiance conviviale, venez réseauter et échanger sur les tendances actuelles du marché avec des professionnels de l'immobilier commercial et du commerce de détail. L'événement se déroulera dans le bar du lobby de l'hôtel Monville situé au rez-de-chaussée de l'établissement. Des rafraîchissements et des hors-d'œuvre seront servis.
Programme
16h – 16h30 • Récupération des badges et inscriptions sur place
16h30 – 16h35 - Mot de bienvenue par Tyler Harden, coprésident-directeur général, Harden
16h35 – 19h • Cocktail réseautage
Frais d'inscription*
Inscrivez-vous à l'avance au tarif régulier (jusqu'au 26 octobre 2022 à 11h59 ET)
Membre • 65$
Non-membre • 80$
Étudiant • 25$
Tarif d'inscription sur place (à partir du 27 octobre 2022 à 12h00 ET)
Membre • 75$
Non-membre • 90$
Étudiant • 25$
* Aucun remboursement en cas d'annulation.
Devenez un membre ICSC ou renouvelez votre adhésion au ICSC et recevez un crédit pour assister à un événement du calendrier 2022 (à l'exception du ICSC NEW YORK).
À la lumière des récents changements appliqués aux mesures sanitaires à travers le pays, et après mûre réflexion, nous avons décidé que, à partir de maintenant, une preuve de vaccination ou un test négatif ne sera plus exigé pour assister aux événements ICSC. Nous continuerons à respecter les directives locales s'il y a lieu et informerons les participants de tout événement nécessitant un ajustement à ce niveau.
Afin d'assurer le bien-être et la tranquillité d'esprit de tous, le ICSC s'engage à organiser des événements en toute sécurité, en prenant les précautions sanitaires appropriées, mais ne peut garantir que les participants, exposants, vendeurs ou autres intervenants ne seront pas infectés par le virus de la COVID. En participant volontairement à un événement du ICSC, vous acceptez et assumez le risque d'une éventuelle exposition ou d'une contraction du virus. Pour plus d'information, consultez les conditions générales de l'ICSC.
Thursday, October 27, 2022 • 4:00 – 7:00 pm ET
Reconnect with the industry by registering for this first ICSC LOCAL MONTREAL post-pandemic networking event. In a friendly atmosphere, come network and discuss current market trends with commercial real estate and retail professionals. This event will be hosted at Hotel Monville Lobby Bar, on the first floor. Refreshments and hors d'oeuvres to be enjoyed.
Schedule
4:00pm - 4:30pm • Badge Pickup & On-Site Registration
4:30pm - 4:35pm – Welcome Remarks by Tyler Harden, Co-Chief Executive Officer, Harden
4:35pm - 7:00pm • Networking Reception
Registration Fees*
Register at the Standard Rate (ends October 26, 2022, at 11:59 pm ET)
Member • $65
Non-Member • $80
Student Member • $25
On-Site Registration Rate (starts October 27, 2022, at 12:00 am ET)
Member • $75
Non-Member • $90
Student Member • $25
*No refunds for cancellations.
Become an ICSC member or renew your ICSC membership and receive an event credit to attend an upcoming 2022 event, excluding ICSC NEW YORK.
In light of the recent COVID policy shifts across the country, and after careful consideration, we have determined proof of vaccination or a negative test will not be required for attendance at ICSC events, effective immediately. We will continue to adhere to local guidelines and will notify registrants for any events that necessitate an adjustment to this plan.
ICSC is committed to bringing our event attendees together safely and with the proper health precautions in place but cannot guarantee that event attendees, exhibitors, vendors or other participants will not become infected with COVID, and by voluntarily attending an ICSC event, you accept and assume the risk of possible exposure or contraction of the same. Read ICSC's Event Terms and Conditions for more information.
Photo credit: © Stéphan Poulin—Tourisme Montréal
The ICSC Local event series are intimate gatherings designed to facilitate greater network building and information sharing among local marketplaces industry professionals.